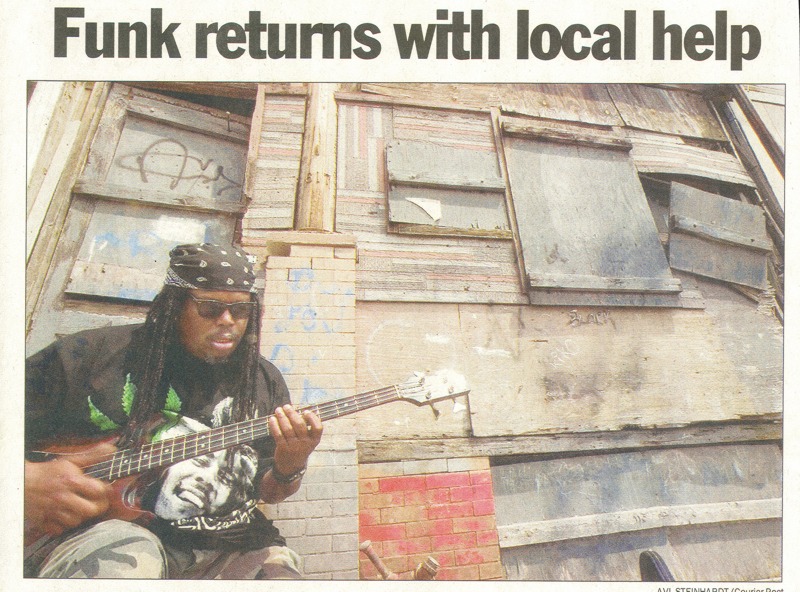 Photo credit~AVI STEINHARDT/Courier-Post
Musician Toe-Knee Saunders plays on York Street in North Camden. The Pennsauken resident and his band The 7th House of Funk released an album titled 'Funk & the Abstract Truth,' available for sale at www.cdbaby.com/cd/toeknee.
A Cameco man's funkadelic journey
By ALAN GUENTHER Courier-Post Staff
Couirer Post Article - Monday June 5, 2006
Meet Toe-Knee Saunders: A painter, poet, musician, street vendor, playwright and magician - a virtual South Jersey Renaissance man. At 47, he's releasing his first album, Funk & the Abstract Truth. He had the initial vision for the album 30 years ago, when in the middle of a miserable childhood, he found solace in his art.
"I lived in about a dozen places. ... I've lived in Camden longer than anyplace else," he said. During a stopover in rural Virginia, he hit bottom emotionally. "Have you ever met Klansmen, without a sheet, who don't want you in' their school? That's what it was like," he said. Feeling alone, unwanted and depressed, he saw a performance at the age of 16 that changed his life.
"One of the first things that helped me heal was seeing George Clinton," said Saunders, referring to the leader of Parliament Funkadelic, a cosmic party band, driven by thundering bass lines and soulful horns. "I had never seen an artist who had so much freedom. I could be me and not have to worry about what anyone thought anymore." Years of scuffiing and traveling followed. Saunders - born Emery Saunders Jr., a name he despises - began to make friends. He dropped out of high school in the ninth grade, got his high school equivalency diploma and attended Camden County College for a while.
A hotel executive saw his artwork and convinced the Pennsylvania Academy of the Fine Arts to let him take a drawing course for free. He followed George Clinton and eventually helped design the wild outfits Clinton wore on stage. That's how he met Michael Hampton, better known as "Kidd Funkadelic," an internationally known musician who plays on Saunders' new album. Kidd Funkadelic played for Clinton and Parliament Funkadelic, more commonly known as PFunk.
Saunders also formed a friendship with Thomas Parker Williams, who eventually became owner of a sound studio in the Manayunk section of Philadelphia. Gradually, Funk & the Abstract Truth came together. Williams provided free time at his Manayunk Cliffs studio for free. Kidd Funkadelic' played guitar. Saunders scrambled for three years to get the album together. "I didn't have a dime," he says.
The musicians, including guitarist Adam Charleton and The 7th. House Horns, played for the promise that they would be paid when the album sold well. Though some of the lyrics are not suitable for children, the album emphasizes "a positive vibe," ,says Saunders, who took his stage,name, Toe-Knee, from letters that an old girlfriend once wrote to him. "That's what she called me," -he says.
The album ranges from funk to jazz to rap to reggae, including protest songs like, "Blood for Oil" and an anti-thug rap song, "Whatever Happened to the Revolution." Local Camden residents, accustomed to seeing Saunders in the Camden Free Public Library on Federal Street, say Saunders has been a good influence in the community for years. . "He's a very positive, caring, outgoing person," says Shirelle Brown, 37. "He tells the kids they can reach your goals."
Saunders' daughter, Ayanna, 11, sings backup on the album. Bob Mitchell reviewed the album for the Atlanta-based - Funk Store. "What Toe-Knee did on this record is he went back to a,genuine era of music making where folks really cared about their craft as opposed to pumping out this junk you hear on the radio today," Mitchell said in a telephone interview. "It's a very earthy record, a very real record. . . . Positive, uplifting and joyous."

Reach Alan Guenther at (856) 317-7871 or aguenther@courierpostonline.com back to top